"There comes a moment in life when you know which is YOUR way. You just grow into it by trying out all kinds of different things, and, if you want, you'll find out what you really are all about and good at."
… easy to say for someone, who has all the characteristics that are required to let yourself 'just' grow into things. Fabienne – free spirit at heart – possesses the power to combine just the right amount of curiosity, determination and sincere interest in things, while exuding cheerfulness and authenticity.
Her unique personality is what made an innocent girl from Basel with far too much energy leave the protective environment of Switzerland, to follow her love Charles to the US, where she became "the new kid on the block" as an aspiring artist and proved ready to conquer New York City. But a drastic incident required her to take equally drastic measures and so she opened herself to what became 'her way'.
Fabienne is by far New York City's most adored "Heidi" and together with her music-loving and finance-entrepreneur husband Charles, they both show New York, how it is done the Swiss way, and when back home in Switzerland, they bring a lot of the American glamour, intensity and diversity to Switzerland, which needs a lot of the same.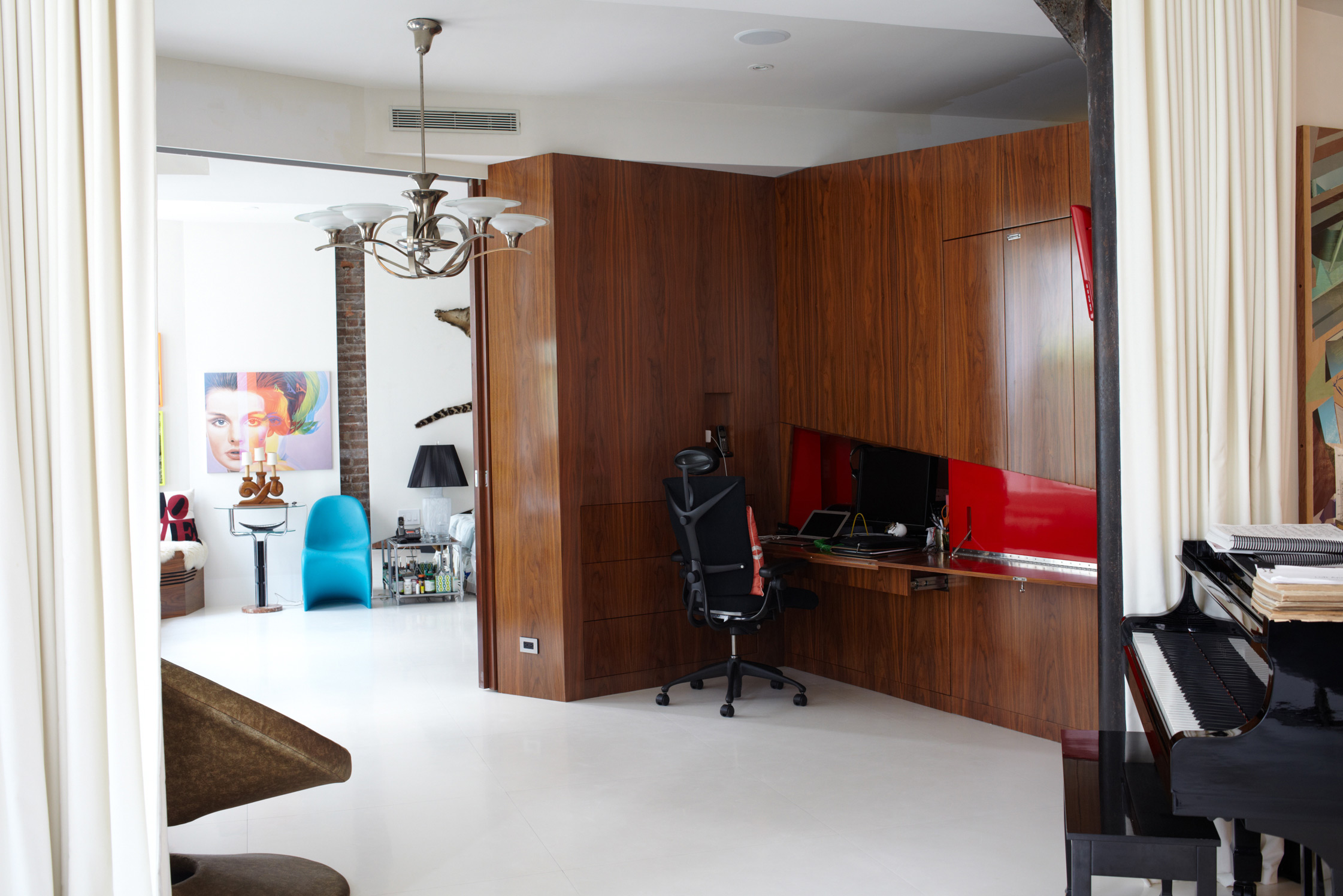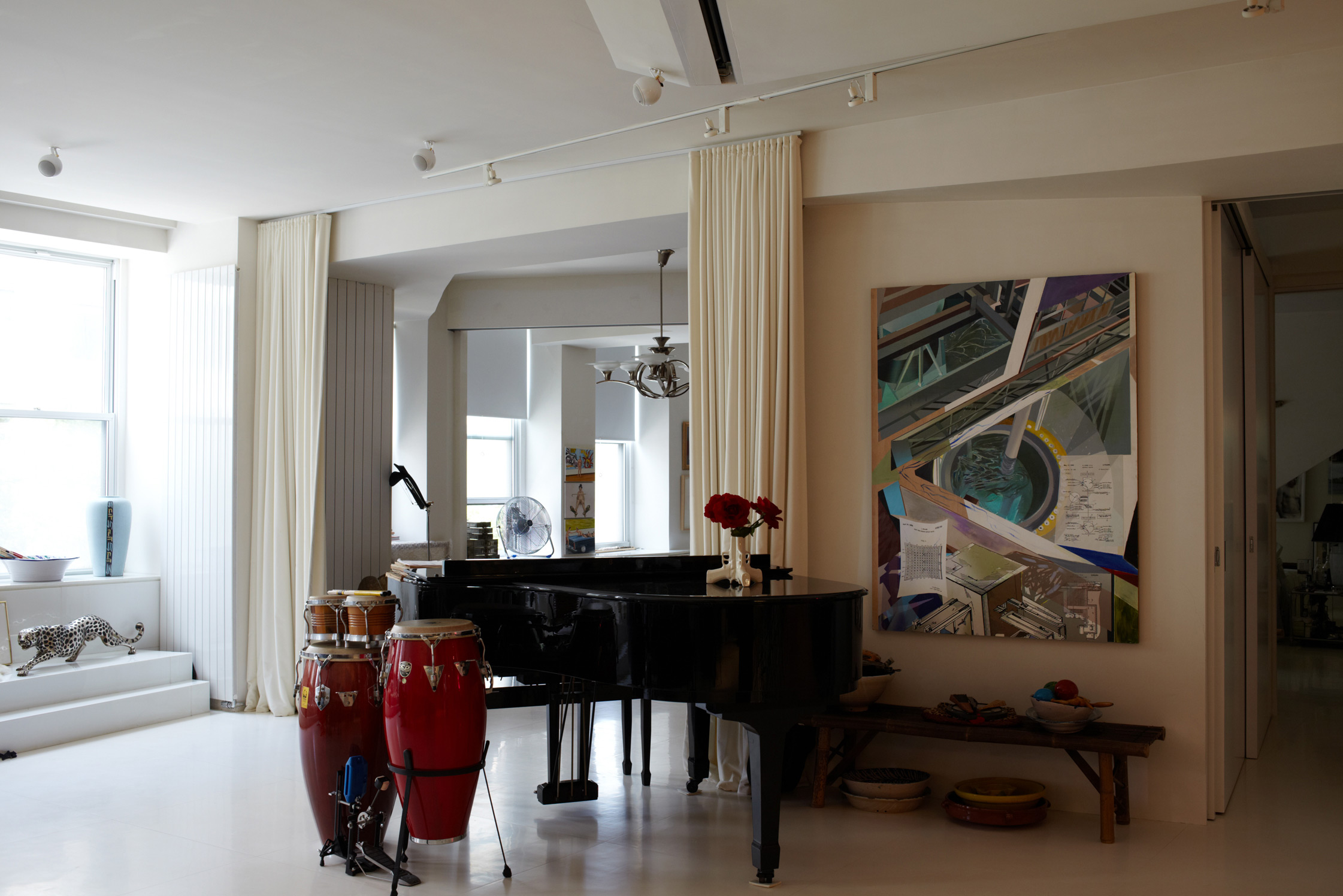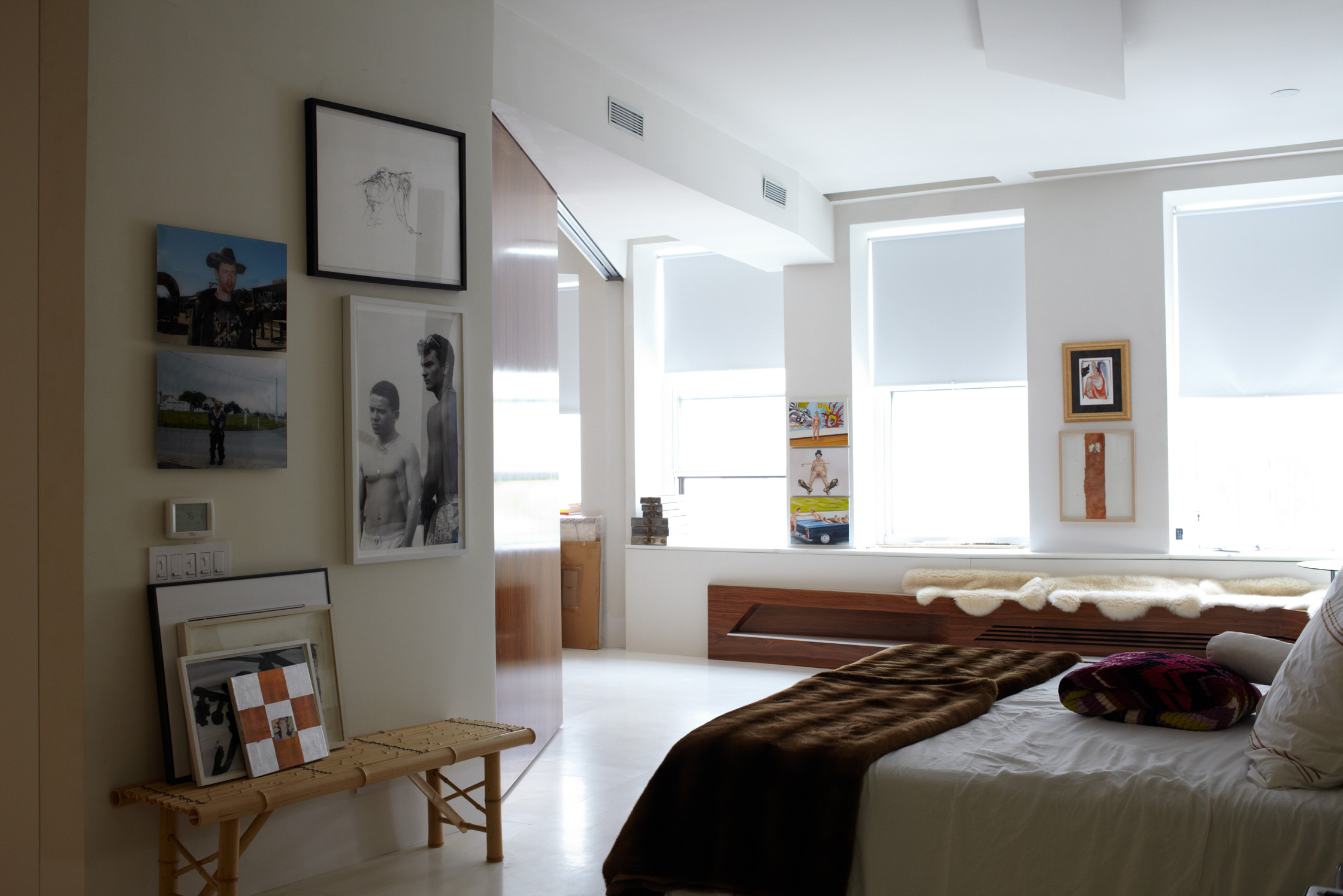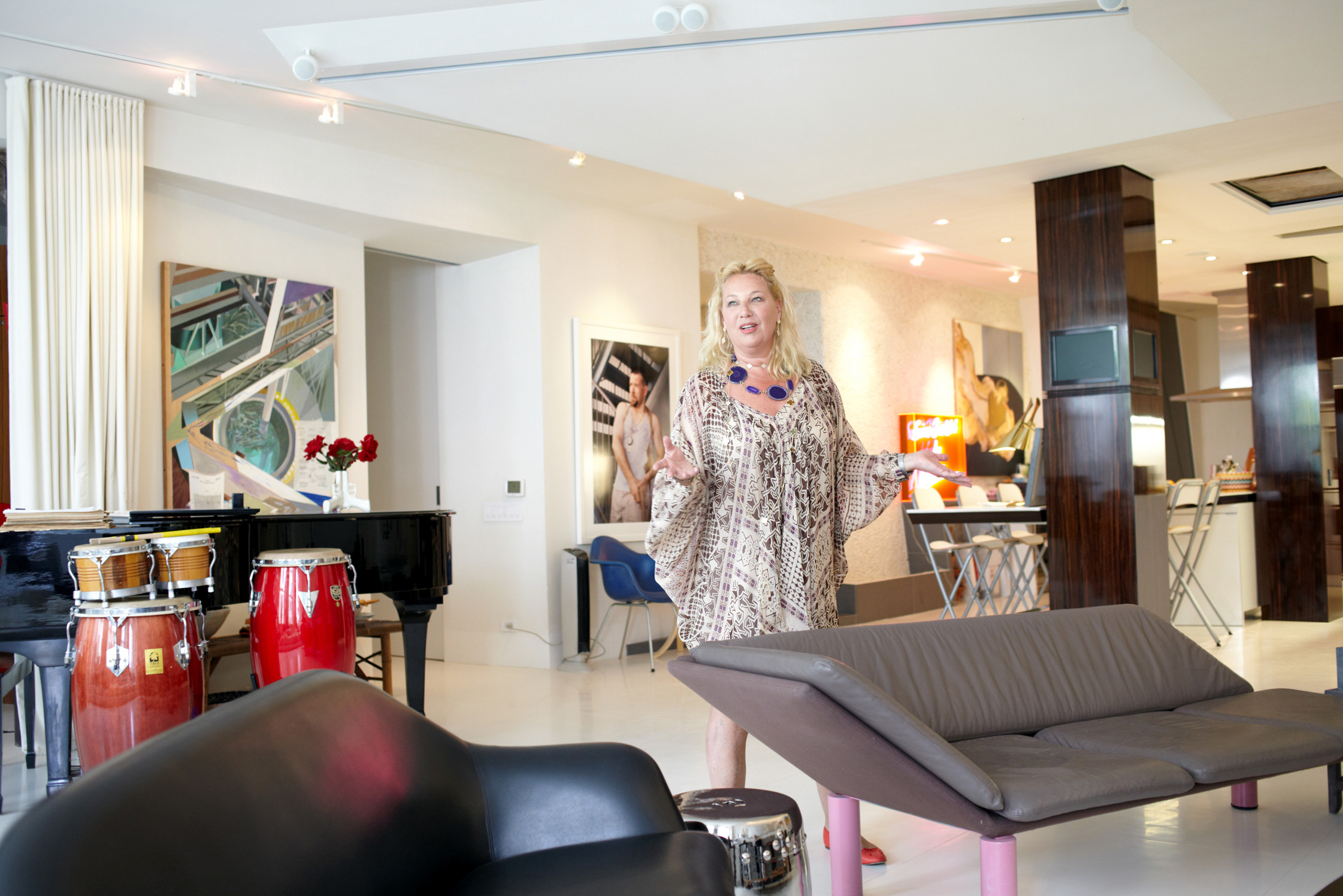 What's your favorite thing about your loft?
My husband Charles saw that its L-shaped space lent itself to lay it out within a Fibonacci. The main theme here is all about speed and has a kind of James Bond feeling, as you can see everything is sort of leaning. When you come in for example, it kind of "throws" you inside, you don't stop at the entrance. Then there are three different entrances to the bedroom or exits from it. This way you get a lot more mileage out of it, because you walk it, and when you walk a lot, it feels bigger to you.
Flowing / movement / speed: What about it?
Well, we think that we are grounded, so we did not want to have a square place grounding us even more. Everything has to be in motion, the aura has to flow all the time, and nothing should stand in its way. We wanted a place that lifts us up, makes us fly and dream, and in the same time is our sanctuary from the hectic and tough life out on the streets of NYC.
You used to be an artist, tell us about it.
I always made art. At some point, when we could afford to do without my salary, I decided to fully devote myself to making art. That was in the late Eighties. Early Nineties I became fascinated with Madonna. She always pushed the limits with her themes and messages and I developed this love/hate relationship to her. There was nothing "saintly" about her, no barriers, no remorse, instead just pure ambition and talent. She touched subjects that nobody else dared to portray. And thanks to her fame factor, she was almost daily in everybody's household and "planted" her message everywhere so boldly and freely. This instant multiplication factor affected me.
This artwork here (behind the couch), for example, is a portrait of her – she's portrayed as singing, but singing without a voice looks like screaming for help, and I made her head roll, and roll, and roll off the canvas. I used silver and aluminum leaf, applying similar techniques like in baroque church artworks, undermining her messages – most of her songs dealt with religious subjects and after all her name was "Madonna".
This 'deer' is a self-portrait?
Yes, ironically it's kind of "la cornuta," meaning "the horned one." I didn't have this title in mind when I made it half a year before I had this huge motorcycle accident. At that point I was tired of Madonna and I was ready to dig deeper within myself to see what's there. This series was all about hunting; who hunts whom. It's like an artist is always hunting his or her subjects on the canvas. And when you dig so deep, then sometimes it starts hunting you. Thus, after the accident, I renamed it to "la cornuta".
Motorcycle-accident?!
It changed me a lot: There's clearly a "before and an after." Before the accident I was successful and there was a lot of jealousy, because I was the new kid on the block … here she comes, from nowhere, Switzerland, and then there was this buzz ….. and boom! After the accident in September 1994 I just disappeared from the surface, because first of all I was in the hospital for 8 weeks over there in Europe, and Charles came over and started working out of my hospital room to keep me company. After the hospital I went back home to live with my mom, who fed and pampered me – I felt like a vegetable and was still in a lot of pain. I was not able to do anything and heavily relied on her.
I came back to NYC in spring 1995, still on crutches and therefore only once there was no more snow. It was all super complicated and everything took my fullest attention. That's when I learned to be punctual because I needed so much time to get dressed and ready to go anywhere. I still had my fabulous, "macho" studio in Dumbo, but now I had to focus on my health. Getting back on my feet became a full time job; I had to go to rehab 5 days a week, there was no room for making art.
After a long period of time of rehab, the unused studio started putting me under too much pressure in continuing to keep it. The rent, and the guilt of not being there due to my still physical incapacity to producing art and thus justify such a grand studio and all — I decided to pack it all up, leave this fabulous space behind, and put everything in storage. My reasoning was that once I'm ready I'll find another space and unpack everything again. But I never did! It's still all in storage including some of my artworks.
This had a lot to do with Charles as well, because when you have so much time to think, you find out where you're in life and I noticed that we had kind of grown apart. In a typical young, professional NYC fashion I did MY things and he did HIS; only after the accident I realized this. Charles had just started his own business and had to go back to Switzerland quite often, and when you make art, you can't always travel and leave your unfinished projects behind. It's like writing a book – you have to stay with it until it's finished, because otherwise you'll never get back into it. Well, when I realized that we were growing apart, I decided that I wanted to remain a part of his life – after all he's my soul mate – and that I won't be happy by just doing my art and not support him in his new ventures.
So I decided to stop making art for the moment. People ask me at time if I don't regret or miss it. Yes and no. Life has so many interesting challenges and there are other things to do or take care of, so there is no real time to regret. I now get to be creative in many more ways.
How did you get involved with the Swiss Institute?
One day I went on my crutches to an opening at the Swiss Institute, because before the accident in the early Nineties I had a show there, and there was Chairman Hannes Frey and benefit Chairlady Elizabeth Schuler. They asked me, whether I would like to get involved and help them at their next benefit? Sure, why not, I have nothing to do but my daily rehab and my studio was anyway all packed up in storage, and thus any other activity was welcome. By helping them I learned all about how to organize a benefit evening. The following year I did it by myself because Elizabeth moved away from NYC – and so, here I was, thinking that I'll wing it. There were fantastic honorees and we volunteers made incredible decorations – friends with loads of talents were helping out. With tons of great energy and positive thinking you can put an amazing event together and people love it and that's what keeps me going – when people tell you afterwards that they really enjoyed it!
You commute Switzerland – New York City?
People always ask where is home, and I say: home is where we are at that moment. The only problem with the back and forth is that sometimes my brain doesn't always travel along for the first few days. We "de-root" ourselves twice a year and that can sometimes be very exhausting, if not confusing. However, it's never a problem when I come to Basel for the Art/Basel fair, because "my" world also comes from there. For these few Art/Basel days everybody speaks English and Basel becomes this international melting pot. But when they're all gone, and all of our house guests have left, Basel becomes again Basel, and that's when I have to find my true self. This disciplined me to be strong and "walk" on my own and not depend on anyone (except on my family). I am interested in being a "doer" and not just a talker. I don't like to adorn myself with someone else's ideas or hear myself talk about what I will do.
What's your favorite thing about being in New York City and Switzerland?
New York City – greatest city of this world, I hate to admit it, because I am not this person that only loves one thing, but NYC is just always fantastic. People walk around with fabulous attitudes, the way they dress, the way they move, the way they do things, there are so many talents, so many surprises, they're so free with their ambitions, they re-invent themselves. Where else are you going to find that but in this melting pot? And then all those different restaurants, different tastes, smells and intellects and everything is just so diverse. If you look at these tall office buildings and wonder about the thousands of people sitting behind these windows and working, thinking, producing, I am in awe of this city. You become a much more tolerant person when you meet so many talented and different people.
In Switzerland I love that everything is at your feet, the mountains, the parks, the lakes and also the pace is easier, slower, and that some things don't change. But I have to be careful not to fall back into my old patterns, such as intolerance, impatience and being grunty when it rains for days or weeks, or when self-righteous, elder people cannot wait in line at the post office, or drivers tailgate and push you over to the right lane on the highway to satisfy their egos, or arrogant pedestrians just walk in front of your car because they're in the right. What good does it to have all the rights as a pedestrian, but when a car hits you, they still land in the hospital? Life lessons taught me to respect the laws of gravity and the stronger typically wins. It takes time to get used to the Swiss ways, and I am always late for shopping which ends at 6:30 p.m.
You have moved to NYC in the eighties, is the spirit different from the people now and then?
Yes, NYC has changed dramatically. I feel it's for the better – it's so much safer today. However, to the regrets of our many friends from Europe who have nostalgic dreams of this "dangerous" and "dark" city, which they fell in love with through the movies portraying a romantic underground world, a cliché where people can experiment life hiding from the controlling authorities. When in the dark nights the streets are smoking (usually not a good sign because of leaking pipes), it presents a mysterious and exciting backdrop in a movie set. Today's spirit has changed – life in NYC is more transparent and clean. I feel that the younger generation is more joyful, carefree, and happier. Girls wear almost nothing and don't have to worry of being harassed or attacked. This is an incredible freedom and they can have fearless fun. I don't think anyone needs to see fear in anyone's face. It is much less dangerous today than in the eighties when we arrived. You can't imagine what our every day thoughts were in those days; never wear jewelry, lock your door 100 times, make sure you knew which neighborhood was safe, doubt anyone crossing your path, never leave anything inside the car, don't walk in dark streets, we always had to worry, but it forced us to "have our act together".
Why did you come here in the first place?
Charles always wanted to do an MBA in the US and I used to work for an American ad agency and was dreaming to go the US – it sounded so much more exciting than life in Switzerland. So before we got married we came to the US for a two-month trip from the West to the East coast and Charles visited a few campuses, and then he applied and when he got accepted at Harvard, we weren't married yet. So now what? I knew that if I stayed behind in Switzerland and Charles would have attended Harvard alone for 2 years, we would surely "lose" each other, because his experience would change him and I would stay the same. In short, Charles asked me to marry him – so we did – one big wedding bash and then off we went!
People always tell me that the longer you are in NY, the better it gets and that especially the first couple of years are tough. Do you feel the same?
Yep. We got cheated on, lied to, stolen from, insulted, whatever … We were such greenhorns when arriving from Switzerland. You can't imagine how someone will tell you something straight-faced into your eyes and then doesn't mean it. The best way to integrate is by becoming members of clubs and participate in their activities. You have to show them who you are. Forget your education of being low key. Nobody is interested in you if they can't "feel" you. You must bring something to the table, be entertaining, know how to tell a good story or something, look attractive, participate and add value. Nobody wants to have a quiet, boring, and dreary looking person sitting next to them.
For example, I made a fashion out of my then plastered leg and painted it like a comics book, telling a story. Every surface can become your canvas; you just have to look for it. Two social rules apply though: if I am not in a good mood or don't feel well, I don't leave home, because I don't have the weapons to adequately react. If you're vulnerable like a wounded deer, you cannot defend yourself and then you get "hurt" by the tough NYC environment. It's best to be healthy and fit, because New Yorker holds up a mirror to you. You get what you give. And the second rule is: never be late. Only tourists are.
What's the most unique characteristic of your husband Charles?
Charles is very brainy (although he is a passionate drummer and can also moonwalk like Michael Jackson), he has this whole other world somewhere in him and thinks of a thousand things at the same time – sometimes I call him the absent-minded professor. It's his private world and I'm not part of it. I knew that when I got married to him. He is one of the only persons I have met in my life who can think independently. When I'm in a crisis it helps me to talk to someone, and while talking I can straighten things out for myself. But he has the ability to think about things without having to confer with anyone and can take his own decision; he's independent, he understands matters. That also makes him a great investor. However, the really interesting thing about him is that he combines mind and spirit in a unique way, and often concludes things with his fantastic sense of humor. He still manages to surprise me and makes me laugh. He's my best friend.
Do you feel art is a fake world?
I have too much respect for it to say that, and no, it isn't. There's nothing fake about artists and the kind of life they chose to make art; it is a very particular and long path. I admit that the art world is sometimes a "circus;" I mean like a feeding-frenzy. Despite increasing numbers of artists and art works, there are never enough "good" works. Due to its popularization, different "marketing techniques" have established and when humans are no longer the focal point their behavior becomes sometimes bizarre.
What is art to you?
I need it, we live with it. It is an essence of life, in particular contemporary art. To me, contemporary art is like watching something being born. At first, you don't know if it's good or bad, but once it's born you start looking at it and learning about it. Where else can you find this? Of course in nature, but I'm not a gardener and art cannot imitate nature. The other "thing" I love is to be at the forefront of the wave of creation and innovation, you so rarely get a chance to be there and participate in shaping it. It is a constant job to stay at the forefront, it is exciting. You look at art, and you don't understand it, but because something intrigues or bothers you, you continue to look at it again, and then perhaps you grow into understanding and liking it. Sometimes, if you immediately "get it" and nothing else follows, then perhaps it's not "good art"….
Tell us about the new space of the Swiss Institute? How did everything change?
Before we were going around with a smile and now we are going around with a BIG smile, because the Swiss Institute is now at a great place – still in the middle of SoHo but now we're on street level and much more accessible and visible. I don't think that the space is over the top. We have been very patient to make this step forward. I do believe in tenacity and patience and definitely seizing the moment when it's here and that's exactly how it was. We looked at many spaces before and when we saw this one, we knew we wanted it and we did everything to make it possible, we needed to raise money in a very short period of time. FOSI's (Friends of the Swiss Institute) loved it also, and along with our main gallery supporters, such as the Swiss Arts Council Pro Helvetia, Luma Foundation, UBS, Swiss Re they are proud that they have been part of making this move happen.
What's the essence of the SI?
As the chairwoman I am not responsible for the program and I'm also not a professional curator. The SI employs a curator/director and it is his or her duty to produce a competitive and interesting program in the field of contemporary art, with a strong tie to Switzerland, presenting an international platform for artists. Our current director and curator is Gianni Jetzer. He is great and does a terrific job – people forget what it takes to curate an entire space filled with content, be it visual or otherwise. People visit the space to see or hear something, hopefully walk home with an experience worth their while for having taken the time and energy to visit. If we manage to surprise savvy, demanding New Yorkers or visitors from out of town, then we've done a lot. Gianni is also exceptional with words – he's one of the best curators I have met when it comes to writing or talking about art. The SI produces approx. six shows per year and in the project room in the basement separate and smaller exhibitions are shown, such as a variety of lectures, performances, book launches, concerts, artist's videos or movies, etc.
Thank you Fabienne for giving us such a private and interesting interview. If you want to know more about Fabienne's work and some of here upcoming projects, please visit Swiss Institute's website.
Interview: Noemi Staehelin
Photography: David Engelhardt