Ten years after our first interview with the British-born photographer, we caught up with Kate Bellm at her island home to find out more about how the global pandemic has redefined her perception of luxury, and her plans to open "the sickest fucking new spot in Mallorca."
Kate Bellm was "flipping obsessed" with photography from the first moment she picked up a camera. "It was an instant love affair," she says, reminiscing about taking analogue pictures of her friends in leprechaun and sumo wrestler outfits on her dad's SLR Canon A-1 camera. "I was very lucky because my school had a dark room. Not many people did photography, so I got to learn one-on-one from my teacher. It was pretty special." Bellm was also mentored by her friend's father, David Montgomery, an award-winning photographer known for his portraits of high profile statesmen and celebrities. "From a young age he told me not to tell people I wanted to be a photographer, but that I was one, and that I was going to be booking jobs before I was eighteen," she says. "I just went with that confidence." As a result, by the time she left school, Bellm was already working professionally.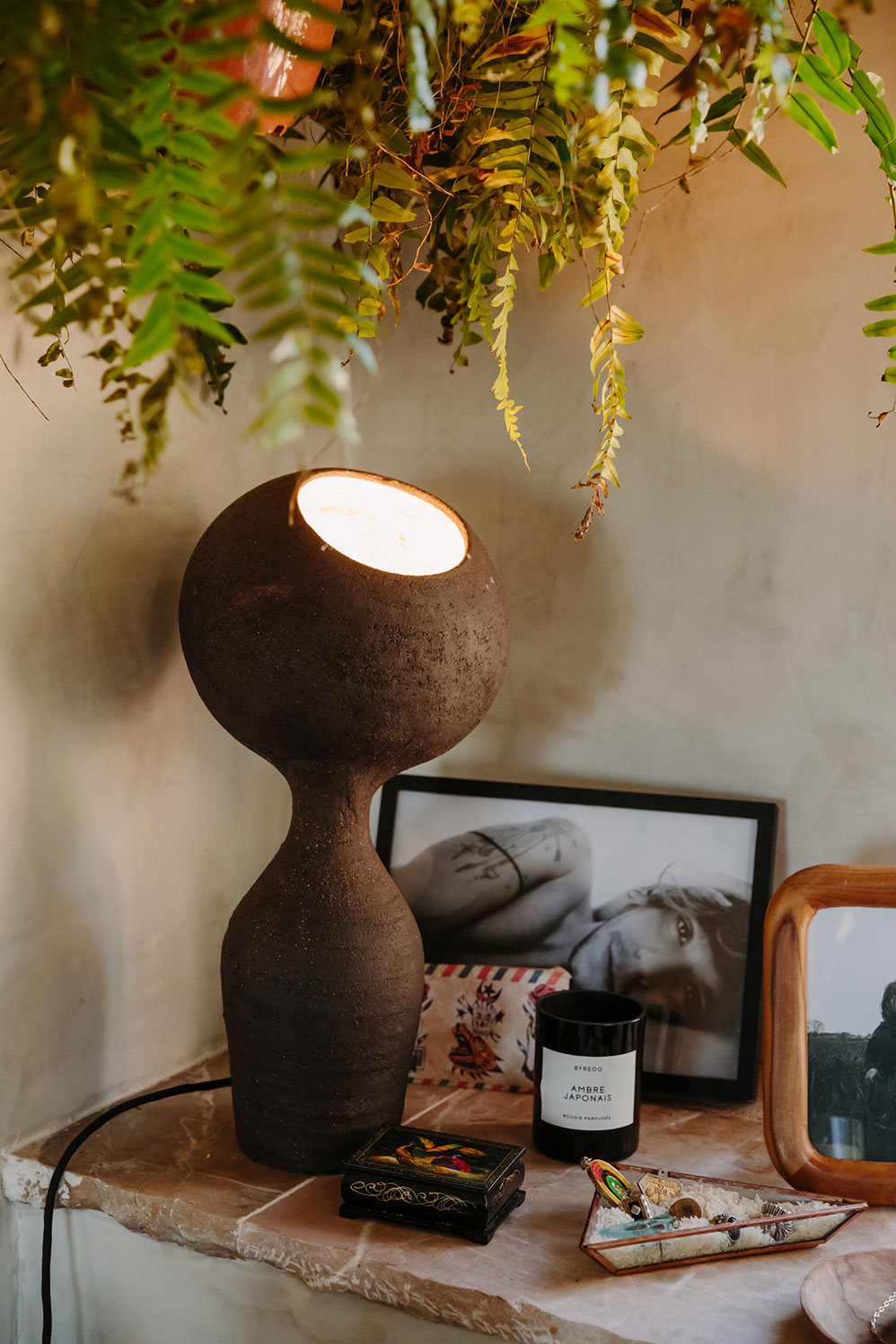 "There's nowhere else I want to go right now. I just want to be here."
And she hasn't slowed down since: after studying photography in Paris, Bellm moved back to London for two years before relocating to the German capital. "Berlin was my craziest dream. There's so much creativity, joy, and inspiration there. It offers you the chance to be an artist," she says. "I love the city so much for that." During this time, she built up an impressive, diverse photographic portfolio, shooting for magazines and brands including Playboy, 032c, British Vogue, Vice, Gucci, Spotify, and Adidas, as well as putting on exhibitions of her work at galleries in London, Bali, Zurich, and most recently Los Angeles for Photo L.A.
While she has lived and worked all over the world, with an often impulsive attitude to relocation—"I've always moved to a country in the space of a week. I visit places for the first time and then think, ok, I'm moving there,"—Bellm decided to settle down for good six years ago when she moved to the Spanish island of Mallorca with her husband, Edgar, and son, Sage. Initially, island life was hard to adapt to. "I was really scared to leave the city, all my friends, the whole vibe, and move out into nature," says Bellm. "For the first five years I couldn't accept that this was my home. There are less options here than in the city. It's a simple life, with the ocean and good food. Sometimes, the hot water doesn't work, or the electricity. It's real mountain life, off the grid style. But now I'm used to it, and I can't ever imagine moving back to the city."
Moving away from the world's cultural capitals has also impacted Bellm's photographic practice. "I lost so much work and flow from moving here," she says. "Here you really have to create your own creativity. You can't be inspired by other people because you're very often alone or just in your family bubble." However, after a short time, Bellm realised that all the inspiration she needed was right in front of her. "You've just got to open up to it," she says. For example, the photographer's 2020 photobook, Amor, which she describes as a collection of photographs of her "muses, every girl or person or moment that's been completely amazing or wild in the last ten years of my career," includes a series of underwater photographs of nude women swimming amidst the rocks of the clear seas around her island home. "This is how we live here," she says when asked about the subjects' lack of clothing. "This is our day-to-day vibe and look. Imagine the photographs with a bunch of neon pink bikinis in there. It would take away from the dream completely. It would bring you into a certain era or time. Nudity is just timeless."
Bellm's upcoming photobook, La Isla, will take even greater inspiration from her island home: she describes it as a "love letter to Mallorca." Produced in collaboration with Frank Rocholl from Mirage Magazine, it is due to be published in June 2021. "It's going to be heavily based on all the beauty around me, all the underwater stuff, the rocks, and all the flowers that bloom." For Bellm, publishing books is not only a way for her to work with materiality in an increasingly digital world—"I love the physical, I'm a sketchbooker"—it's also a way for her to reclaim power as a photographer. "You don't need to work in line with this or that editorial, you can just shoot what you like and make your own book or magazine and sell it to people who love your work and want to buy into your images. It's really your own vision and not commercialised in any way."
"All the islands are having a major rebirth of creativity and youth culture."
While currently deeply invested in her personal work, Bellm has still managed to work on a variety of commercial projects since living in Mallorca, and believes businesses are beginning to realise the island's potential. During the week of our interview, she says shoots are going on all over the island for some of the world's biggest brands. "Mallorca has the most insane location folder. People have no idea. You can go to places that look like Caribbean beaches, Swedish forests, or even Mars. There are just so many beautiful places to shoot." Individuals and families are also waking up to Mallorca as a place to settle down, and the island's creative community is growing as a result. "There were hardly any young people living here when I first moved over, but Mallorca's really vibing right now. So many huge artists and families with kids are moving here from New York, Barcelona, and Berlin to create the next phases of their lives," says Bellm. "They're impressed by what's happening to the scene here. All the islands are having a major rebirth of creativity and youth culture."
Fostering the island's youth culture is one of the main objectives of Bellm's latest project, which is a big departure from her activities to date. "I'm going to be the hotelier of the sickest fucking new spot in Mallorca," she says passionately. While evidently enthusiastic about her new venture now, Bellm says it was never her ultimate dream to own and operate a hotel. The inspiration in fact came from her friend, and now business partner, Magnus Reid, who will be moving over to the island with his whole family to focus on the project. An artist and chef with extensive experience in hospitality, Reid was the one who initially suggested they should buy the hotel behind her Mallorcan home, which is currently operated by two elderly locals. "It made complete sense because every single day since moving here I've been sent messages—usually from my Berlin friends—asking: where should I stay on the island? Where should I eat? Where should I go? Where can I get a healthy breakfast? I never know where to recommend. Now it's going to be great to have something that I'm super proud of to stand behind."
"Luxury is not having to travel because you already live in a place that is a travel destination in itself."
To be named Corazon—Corazon means heart in Spanish, and references the hotel's location at the heart of a mountainous valley surrounded by water springs, the ocean, and a forest—the hotel will offer "breakfast, lunch, and dinner at all times of the day. There's going to be loads of space, a huge terrace, and a pool. It's going to be a place for people of like minded creativity to gather: it's for the young, it's for the arty, it's for us," says Bellm, who adds that she already has interest from "huge artists" who want to come and do residencies at her new venue. "We won't set up anything official, we just want them to come and create the vibe." There are also plans in the pipeline for various events and workshops: everything from pickling to photography. "There's just going to be so much to do."
While Bellm hopes Hotel Corazon will trigger a big shift in the kind of visitors that come to the island, she does emphasize that the hotel won't just be for tourists: she also wants it to serve her local community. "We're going to have a farm on the property. The idea is that locals can come for amazing food, swing through to grab a sandwich or a smoothie for the beach. It's going to have a deli, come-and-go vibe that's really lacking on the island at the moment. Rather than have to drive all the way to other villages and cities, the 'mountain people' who live close by will be able to come to us if they quickly need some bread, or a lemon, or a cucumber."
"[My hotel] is going to be a place for people of like minded creativity to gather: it's for the young, it's for the arty, it's for us."
Taking over the property in October, Bellm and her partners will conduct a period of refurbishment before the hotel opens in Spring 2022. "Everything needs to be updated. I have a very professional interior design and architectural team onboard. They're basically Architectural Digest's best designers, who just happen to be my neighbours!" she says. "It will literally be the highest standard of luxury. Not luxury as the richest people in the world know it, but luxury for young travellers who want a nice place to stay that feels like home and where they can feel like a local."
Bellm's personal definition of luxury has changed over the years, and particularly over the past 12 months due to the global coronavirus pandemic. "No one really wanted to move out to the countryside before COVID. Now, luxury is having a garden, having space, and not being around too many people. It's not having to travel because you already live in a place that is a travel destination in itself." She describes driving over the other side of the island the day before our interview and having her own mini vacation. "I was tripping balls. I was like, oh my god, look at this place, and it's only 30 minutes away from my home. There's nowhere else I want to go right now. I just want to be here. That's been the realisation of my year."
Kate Bellm is a British-born photographer currently living in Mallorca. Having shot for a wide variety of international brands and publications, as well as having published her own photo books including Amor and La Isla—to be released in June 2021—Bellm is now focusing her efforts on the opening of Corazon, a new hotel in Mallorca created in partnership with her husband, Edgar, and business partner Magnus Reid. To stay up to date with Kate's activities, follow her on Instagram. Or, if you'd like to read more stories from the island of Mallorca, why not read this interview with Artnet Vice President Sophie Neuendorf.
Text: Emily May
Photography: Marina Denisova