Micro-districts comprise multistorey residential dwellings with schools, shops, and entertainment facilities. Once prominent examples of Soviet architecture, one housing complex continues to dot the landscape of Tbilisi's outskirts.
Under communist rule, every single family was meant to be accomodated in urban units. In Tbilisi, many families found homes in the suburb of Gldani, the main location of this year's Tbilisi Architecture Biennial. As impermanence has become an important buzzword when discussing urban living, the bienniale—which is the first of its kind in Georgia—addresses social practices behind informal architecture and living forms.
The key topic, Buildings Are Not Enough, illustrates the high levels of chaotic construction in Tbilisi that followed the dissolution of the Soviet Union. It is guided by the understanding that with an increase of people moving to cities, urban responses that include self-made and informal housing solutions are inevitable. "We are trying to understand why dwellers are making changes to their built environments and what can we learn from how the residents adopt their living space to their needs," says Tinatin Gurgenidze, one of the biennial's founding directors.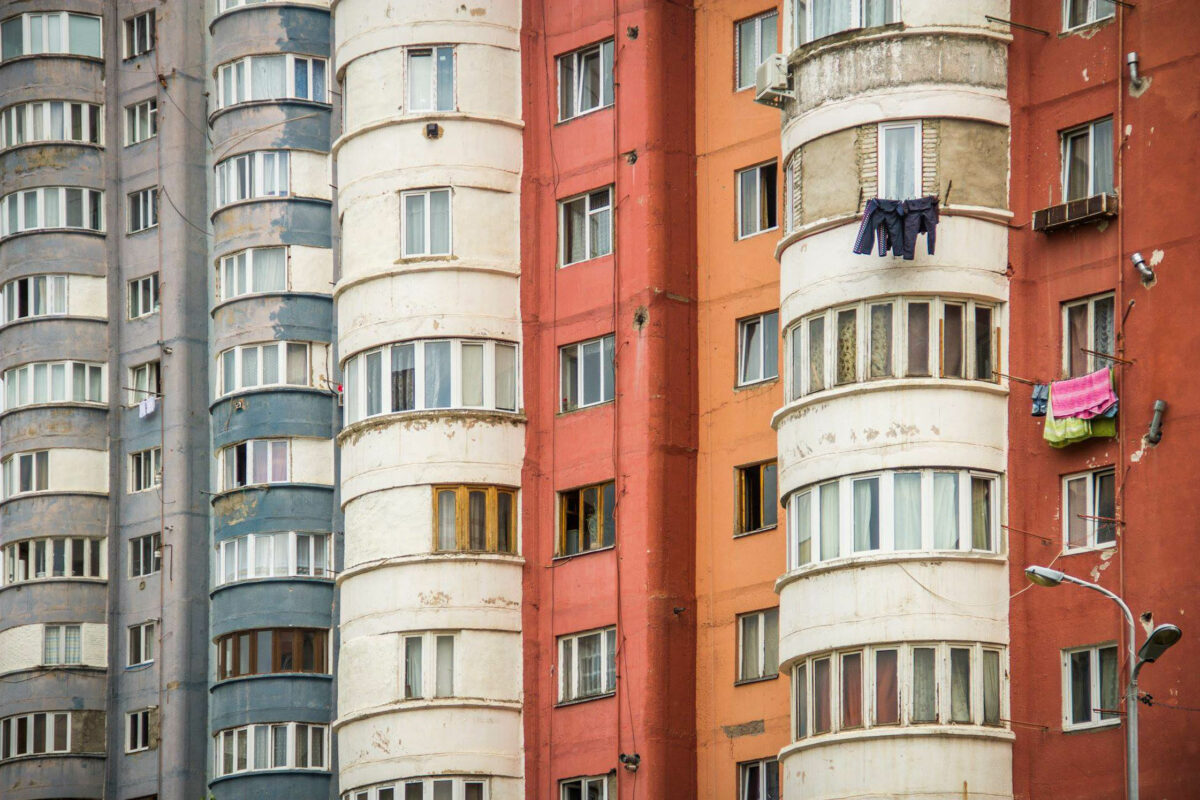 "There is no general plan of the city."
"Tbilisi has been experiencing a really disorganized urban development in the recent years, which is due to a lack of regulations; there is no general plan of the city," explains Gurgenidze. This means that in the past decade, when construction became a source of income for many people, investors and developers have descended on the city, predominantly to build residential blocks, erasing trees and green spaces.
To the creative heads behind the biennial, living in urban hubs and the idea of urban informality are two differents things. "Urban chaos, for instance, is caused by high-rise blocks, which are not informal—they are formally built. What we mean and talk about with informalities are the structures that change, what residents have done to their own apartments. They might have changed their balcony, or have added one to their flat. There are a lot of different informalities that you notice," says Gurgenidze, referring to spaces inside housing complexes or backyards and informal economies, such as street vendors.
The Tbilisi Architecture Biennial acts as a platform to encourage critical discourse, and to bring together the public, policy makers, and people professionally involved in designing urban landscapes to catalyze change. "Architecture and urbanism aren't single entities or isolated professions, so it is essential to have people from different disciplines have a very deep and critical discussion," says Gurgenidze. What does that change ideally look like, in Tbilisi? "I take what's happening right now as a process, I take it as a challenge. In architecture there is a lack of this kind of research approach to this problem. That's why we go back and research the post-Soviet period," she says.
For its inaugural edition, the Tbilisi Architecture Biennial deals with how informal structures shape the contemporary urban landscape of Georgia's capital city. To address its main topic, Buildings Are Not Enough, the organizers have gathered national and international architects, artists, anthropologists, socialists, and more from over 16 countries to discuss and present ideas through keynote speeches, exhibitions, and public displays.
The biennial will run from October 26 until November 3. For more information and updates follow their Instagram.
Text: Ann-Christin Schubert
Photos courtesy of Tbilisi Architecture Biennial